Halo 2 + Live Starter Kit
Dacht je nu echt dat de Covenant zo gemakkelijk overwonnen kon worden? Terwijl Master Chief, de genetisch gemanipuleerde supersoldaat, en de Marines op Halo een klinkende overwinning behaalden, vermorzelde een andere Covenant-aanval de laatste verdedigingslinie van onze dierbare Aarde.

Master Chief en zijn medestrijders reizen halsoverkop richting Aarde om de laatste haarden van menselijk verzet aan te wakkeren tot een wereldbrand. Jij bent de laatste kans voor de Mensheid!

Dit immens en episch vervolg op de belangrijkste first person shooter uit de consolegeschiedenis zal vriend en vijand verbazen door de vernieuwde multiplayer mogelijkheden via XBox Live? Waanzinnige confrontaties tussen voertuigen en infanterie. Charges van pelotons Orbital Drop Shock Troopers. Real-time gesproken communicatie.

Live Halo to the MAX!

- INCLUSIEF Live Communicator Headset & XBox Live abonnement voor 3 maanden!

- off line splitscreen 1-4 spelers
- off line netwerk 2-16 spelers (via System Link)
- on line 2-16 spelers (via XBox Live)
- extra: tot 4 spelers in splitscreen op 1 tv kunnen samen online gaan via slechts 1 Live account!

- Via XBox Live: clans, content download, online multiplayer, scoreboards, friends & voice communication
USED
Productcode: U115296
Dacht je nu echt dat de Covenant zo gemakkelijk overwonnen kon worden? Terwijl Master Chief, de genetisch gemanipuleerde supersoldaat, en de Marines op Halo een klinkende overwinning behaalden, vermorzelde een andere Covenant-aanval de laatste verdedigingslinie van onze dierbare Aarde.

Master Chief en zijn medestrijders reizen halsoverkop richting Aarde om de laatste haarden van menselijk verzet aan te wakkeren tot een wereldbrand. Jij bent de laatste kans voor de Mensheid!

Dit immens en episch vervolg op de belangrijkste first person shooter uit de consolegeschiedenis zal vriend en vijand verbazen door de vernieuwde multiplayer mogelijkheden via XBox Live? Waanzinnige confrontaties tussen voertuigen en infanterie. Charges van pelotons Orbital Drop Shock Troopers. Real-time gesproken communicatie.

Live Halo to the MAX!

- INCLUSIEF Live Communicator Headset & XBox Live abonnement voor 3 maanden!

- off line splitscreen 1-4 spelers
- off line netwerk 2-16 spelers (via System Link)
- on line 2-16 spelers (via XBox Live)
- extra: tot 4 spelers in splitscreen op 1 tv kunnen samen online gaan via slechts 1 Live account!

- Via XBox Live: clans, content download, online multiplayer, scoreboards, friends & voice communication
Lees meer
Beschikbaar in winkels. Bekijk winkels met voorraad.
Momenteel niet beschikbaar
Op alle USED producten ontvang je 100% garantie. DLC codes meegeleverd met USED producten kunnen al gebruikt zijn.
Gratis verzending

vanaf 30 euro

Betaal veilig online

via je eigen bank

Ontvang coins

& unlock badges met Game Mania XP (meer info)
Dacht je nu echt dat de Covenant zo gemakkelijk overwonnen kon worden? Terwijl Master Chief, de genetisch gemanipuleerde supersoldaat, en de Marines op Halo een klinkende overwinning behaalden, vermorzelde een andere Covenant-aanval de laatste verdedigingslinie van onze dierbare Aarde.

Master Chief en zijn medestrijders reizen halsoverkop richting Aarde om de laatste haarden van menselijk verzet aan te wakkeren tot een wereldbrand. Jij bent de laatste kans voor de Mensheid!

Dit immens en episch vervolg op de belangrijkste first person shooter uit de consolegeschiedenis zal vriend en vijand verbazen door de vernieuwde multiplayer mogelijkheden via XBox Live? Waanzinnige confrontaties tussen voertuigen en infanterie. Charges van pelotons Orbital Drop Shock Troopers. Real-time gesproken communicatie.

Live Halo to the MAX!

- INCLUSIEF Live Communicator Headset & XBox Live abonnement voor 3 maanden!

- off line splitscreen 1-4 spelers
- off line netwerk 2-16 spelers (via System Link)
- on line 2-16 spelers (via XBox Live)
- extra: tot 4 spelers in splitscreen op 1 tv kunnen samen online gaan via slechts 1 Live account!

- Via XBox Live: clans, content download, online multiplayer, scoreboards, friends & voice communication
Misschien vind je deze producten ook interessant?
Productspecificaties
| | |
| --- | --- |
| Spelmodi | Online Multiplayer Competitief |
| PEGI leeftijd | 16 |
| PEGI inhoud | Geweld |
| Uitgever | Microsoft |
| Releasedatum | 16.11.2004 |
| EAN | 805529980853 |
Koop nu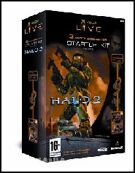 Halo 2 + Live Starter Kit
Beschikbaar in winkels. Bekijk winkels met voorraad.
Momenteel niet beschikbaar
x
**NOT FOUND** key: product.askQuestion