Hjjg, hijg. Zweet, zweet. Puf, puf.
Je zou denken dat ik ben gaan joggen en touwtjespringen tegelijk! Niets daarvan. Gewoon op de tonen van Blondie, The Libertines, The Wonderstuff, Caesars Palace, The Shamen , Big Brovas en vele andere hits op een dansmat gehuppeld in een hopeloze poging om in de maat te blijven. Timing, conditie, ritmegevoel en reactievermogen... het is in bestelling!

_x000D_ - Voor 1-2 spelers
_x000D_ - Online multiplayer via Xbox Live met Voice Communication
_x000D_ - Mogelijkheid tot Content Download & online scoreborden via Xbox Live
_x000D_ - Inclusief Fitness-stand
_x000D_ - Speelbaar met de optionele Dancemat Controller

_x000D_ - EAN 4012927030653
_x000D_ - Art. 12911
USED
Productcode: U112911
Hjjg, hijg. Zweet, zweet. Puf, puf.
Je zou denken dat ik ben gaan joggen en touwtjespringen tegelijk! Niets daarvan. Gewoon op de tonen van Blondie, The Libertines, The Wonderstuff, Caesars Palace, The Shamen , Big Brovas en vele andere hits op een dansmat gehuppeld in een hopeloze poging om in de maat te blijven. Timing, conditie, ritmegevoel en reactievermogen... het is in bestelling!

_x000D_ - Voor 1-2 spelers
_x000D_ - Online multiplayer via Xbox Live met Voice Communication
_x000D_ - Mogelijkheid tot Content Download & online scoreborden via Xbox Live
_x000D_ - Inclusief Fitness-stand
_x000D_ - Speelbaar met de optionele Dancemat Controller

_x000D_ - EAN 4012927030653
_x000D_ - Art. 12911
Lees meer
Beschikbaar in winkels. Bekijk winkels met voorraad.
Momenteel niet beschikbaar
Op alle USED producten ontvang je 100% garantie. DLC codes meegeleverd met USED producten kunnen al gebruikt zijn.
Gratis verzending

vanaf 30 euro

Betaal veilig online

via je eigen bank

Ontvang coins

& unlock badges met Game Mania XP (meer info)
Hjjg, hijg. Zweet, zweet. Puf, puf.
Je zou denken dat ik ben gaan joggen en touwtjespringen tegelijk! Niets daarvan. Gewoon op de tonen van Blondie, The Libertines, The Wonderstuff, Caesars Palace, The Shamen , Big Brovas en vele andere hits op een dansmat gehuppeld in een hopeloze poging om in de maat te blijven. Timing, conditie, ritmegevoel en reactievermogen... het is in bestelling!

_x000D_ - Voor 1-2 spelers
_x000D_ - Online multiplayer via Xbox Live met Voice Communication
_x000D_ - Mogelijkheid tot Content Download & online scoreborden via Xbox Live
_x000D_ - Inclusief Fitness-stand
_x000D_ - Speelbaar met de optionele Dancemat Controller

_x000D_ - EAN 4012927030653
_x000D_ - Art. 12911
Misschien vind je deze producten ook interessant?
Productspecificaties
| | |
| --- | --- |
| Spelmodi | Singleplayer |
| Uitgever | Konami |
| Releasedatum | 27.02.2004 |
| EAN | 4012927030653 |
Koop nu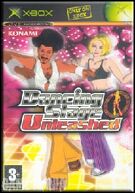 Dancing Stage Unleashed
Beschikbaar in winkels. Bekijk winkels met voorraad.
Momenteel niet beschikbaar
x
**NOT FOUND** key: product.askQuestion