Star Wars - Knights of the Old Republic - Classics
Dit is wat er van komt als de makers van Baldur's Gate zich op het SW-universum storten. Je krijgt een bom van een RPG waarin de Sith goed op weg zijn om de Orde der Jedi omver te werpen en tegelijk de Republiek ongenadig in de klauwen van de Darkseid drijven. Tenzij één jonge Jedi-ridder de immense krachten van de Force leert te beheersen, zonder ten prooi te vallen aan de verlokking van het Duister.
Dit is KOTOR. Dit is het definitieve Star Wars-game, punt uit.

_x000D_ - Voor 1 speler

_x000D_ - Online Content Download via XBox Live

_x000D_ - EAN 023272001612
_x000D_ - Art. 14801

- Soft budget titel in de Classics-reeks
NEW
Productcode: 114801
Dit is wat er van komt als de makers van Baldur's Gate zich op het SW-universum storten. Je krijgt een bom van een RPG waarin de Sith goed op weg zijn om de Orde der Jedi omver te werpen en tegelijk de Republiek ongenadig in de klauwen van de Darkseid drijven. Tenzij één jonge Jedi-ridder de immense krachten van de Force leert te beheersen, zonder ten prooi te vallen aan de verlokking van het Duister.
Dit is KOTOR. Dit is het definitieve Star Wars-game, punt uit.

_x000D_ - Voor 1 speler

_x000D_ - Online Content Download via XBox Live

_x000D_ - EAN 023272001612
_x000D_ - Art. 14801

- Soft budget titel in de Classics-reeks
Lees meer
Beschikbaar in winkels. Bekijk winkels met voorraad.
Momenteel niet beschikbaar
Gratis verzending

vanaf 30 euro

Betaal veilig online

via je eigen bank

Ontvang coins

& unlock badges met Game Mania XP (meer info)
Dit is wat er van komt als de makers van Baldur's Gate zich op het SW-universum storten. Je krijgt een bom van een RPG waarin de Sith goed op weg zijn om de Orde der Jedi omver te werpen en tegelijk de Republiek ongenadig in de klauwen van de Darkseid drijven. Tenzij één jonge Jedi-ridder de immense krachten van de Force leert te beheersen, zonder ten prooi te vallen aan de verlokking van het Duister.
Dit is KOTOR. Dit is het definitieve Star Wars-game, punt uit.

_x000D_ - Voor 1 speler

_x000D_ - Online Content Download via XBox Live

_x000D_ - EAN 023272001612
_x000D_ - Art. 14801

- Soft budget titel in de Classics-reeks
Misschien vind je deze producten ook interessant?
Productspecificaties
| | |
| --- | --- |
| Spelmodi | Online Multiplayer Competitief |
| PEGI leeftijd | 12 |
| PEGI inhoud | Geweld |
| Uitgever | Lucas Arts |
| Releasedatum | 08.09.2004 |
| EAN | 23272001612 |
| Genre | RPG |
Koop nu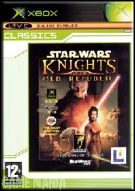 Star Wars - Knights of the Old Republic - Classics
Beschikbaar in winkels. Bekijk winkels met voorraad.
Momenteel niet beschikbaar
x
**NOT FOUND** key: product.askQuestion