You're in the Movies + Live Vision
Microsoft's antwoord op Sony's EyeToy is deze 'You're in the movies.' In dit game ben jij de hoofdrolspeler. Droomde je altijd al van een carrière als 'scream queen', zombie of kung-fu vechter? Leef je uit in een magische wereld van cinema en hilarische improvisatie. Met de hulp van de Xbox Live Vision camera worden jouw acties opgenomen. Later kan je de dubieuze acteerprestaties van vrienden en familie herbekijken. Fragmenten belanden nooit in de prullenbak en ze zijn nooit hetzelfde. Maak je klaar voor een close-up. Speel meer dan 40 waanzinnige minigames en zie de clips samensmelten tot een hilarische film, waarin jij de ster bent. Leun achterover om samen het eindresultaat te bekijken, of deel de films met leuke vrienden en familie. In de film spelen was nog nooit zo leuk!

- De meegeleverde Xbox Live Vision-camera integreert naadloos met het Xbox 360-systeem en het Xbox Live-netwerk om sociaal gamen tot leven te brengen.
- Doe mee in je hoogsteigen B-film: in 'You're in the movies' ben jij de actiester in een blockbuster of filmster in een stille film. Kies uit verschillende ludieke, kitscherige scripts in verschillende genres.
- De cast: tot vier personen kunnen in de spotlight staan en een hoofdrol spelen. De topregisseur begeleid je met instructies en feedback. De regisseur neemt zelfs de tijd om je fysieke prestaties in de minigames te beoordelen.
- Spring in de regisseursstoel: spring in de 'Director Mode' en monteer een trailer van de film die je net gemaakt hebt.
- De technologie staat niet stil: de Xbox Live Vision camera detecteert de acteurs door het gebruik van 'green screen' technologie. Al je knappe en hilarische prestaties kan je opslaan, delen en herbeleven.
Inclusief: Xbox Live Vision camera
NEW
Productcode: 121392
Microsoft's antwoord op Sony's EyeToy is deze 'You're in the movies.' In dit game ben jij de hoofdrolspeler. Droomde je altijd al van een carrière als 'scream queen', zombie of kung-fu vechter? Leef je uit in een magische wereld van cinema en hilarische improvisatie. Met de hulp van de Xbox Live Vision camera worden jouw acties opgenomen. Later kan je de dubieuze acteerprestaties van vrienden en familie herbekijken. Fragmenten belanden nooit in de prullenbak en ze zijn nooit hetzelfde. Maak je klaar voor een close-up. Speel meer dan 40 waanzinnige minigames en zie de clips samensmelten tot een hilarische film, waarin jij de ster bent. Leun achterover om samen het eindresultaat te bekijken, of deel de films met leuke vrienden en familie. In de film spelen was nog nooit zo leuk!

- De meegeleverde Xbox Live Vision-camera integreert naadloos met het Xbox 360-systeem en het Xbox Live-netwerk om sociaal gamen tot leven te brengen.
- Doe mee in je hoogsteigen B-film: in 'You're in the movies' ben jij de actiester in een blockbuster of filmster in een stille film. Kies uit verschillende ludieke, kitscherige scripts in verschillende genres.
- De cast: tot vier personen kunnen in de spotlight staan en een hoofdrol spelen. De topregisseur begeleid je met instructies en feedback. De regisseur neemt zelfs de tijd om je fysieke prestaties in de minigames te beoordelen.
- Spring in de regisseursstoel: spring in de 'Director Mode' en monteer een trailer van de film die je net gemaakt hebt.
- De technologie staat niet stil: de Xbox Live Vision camera detecteert de acteurs door het gebruik van 'green screen' technologie. Al je knappe en hilarische prestaties kan je opslaan, delen en herbeleven.
Inclusief: Xbox Live Vision camera
Lees meer
Beschikbaar in winkels. Bekijk winkels met voorraad.
Momenteel niet beschikbaar
Gratis verzending

vanaf 30 euro

Betaal veilig online

via je eigen bank

Ontvang coins

& unlock badges met Game Mania XP (meer info)
Microsoft's antwoord op Sony's EyeToy is deze 'You're in the movies.' In dit game ben jij de hoofdrolspeler. Droomde je altijd al van een carrière als 'scream queen', zombie of kung-fu vechter? Leef je uit in een magische wereld van cinema en hilarische improvisatie. Met de hulp van de Xbox Live Vision camera worden jouw acties opgenomen. Later kan je de dubieuze acteerprestaties van vrienden en familie herbekijken. Fragmenten belanden nooit in de prullenbak en ze zijn nooit hetzelfde. Maak je klaar voor een close-up. Speel meer dan 40 waanzinnige minigames en zie de clips samensmelten tot een hilarische film, waarin jij de ster bent. Leun achterover om samen het eindresultaat te bekijken, of deel de films met leuke vrienden en familie. In de film spelen was nog nooit zo leuk!

- De meegeleverde Xbox Live Vision-camera integreert naadloos met het Xbox 360-systeem en het Xbox Live-netwerk om sociaal gamen tot leven te brengen.
- Doe mee in je hoogsteigen B-film: in 'You're in the movies' ben jij de actiester in een blockbuster of filmster in een stille film. Kies uit verschillende ludieke, kitscherige scripts in verschillende genres.
- De cast: tot vier personen kunnen in de spotlight staan en een hoofdrol spelen. De topregisseur begeleid je met instructies en feedback. De regisseur neemt zelfs de tijd om je fysieke prestaties in de minigames te beoordelen.
- Spring in de regisseursstoel: spring in de 'Director Mode' en monteer een trailer van de film die je net gemaakt hebt.
- De technologie staat niet stil: de Xbox Live Vision camera detecteert de acteurs door het gebruik van 'green screen' technologie. Al je knappe en hilarische prestaties kan je opslaan, delen en herbeleven.
Inclusief: Xbox Live Vision camera
Misschien vind je deze producten ook interessant?
Productspecificaties
| | |
| --- | --- |
| Spelmodi | Singleplayer |
| PEGI leeftijd | 3 |
| Uitgever | Microsoft |
| Releasedatum | 27.11.2008 |
| EAN | 882224769174 |
| Genre | Party, Puzzle |
Koop nu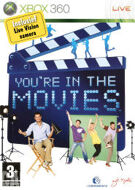 You're in the Movies + Live Vision
Beschikbaar in winkels. Bekijk winkels met voorraad.
Momenteel niet beschikbaar
x
**NOT FOUND** key: product.askQuestion