Verhaallijn

Iedereen kent de klassieke King Kong film wel. Met als vaakst geparodieerde scène degene waar de gigantische aap het flatgebouw beklimt. Peter Jackson (bekend als regisseur van the Lord of the Rings) heefteen remake van deze film gemaakt en daar hoort natuurlijk een game bij.

Spelervaring

De game is afwisselend third person en first person. Je zit op King Kong?s eiland en krijgt daar niet enkel met deze übergorillate maken maar ook met andere tot monsterlijke afmetingen gegroeide beesten. Zo moet je het ondermeer opnemen tegen een enorme dinosaurus en een al even grote duizendpoot.

Na een tijd krijg je zelfs de controle over King Kong himself, en dan wordt hetpas echt interessant..

Aantal spelers

1 Speler
NEW
Productcode: 116671
Verhaallijn

Iedereen kent de klassieke King Kong film wel. Met als vaakst geparodieerde scène degene waar de gigantische aap het flatgebouw beklimt. Peter Jackson (bekend als regisseur van the Lord of the Rings) heefteen remake van deze film gemaakt en daar hoort natuurlijk een game bij.

Spelervaring

De game is afwisselend third person en first person. Je zit op King Kong?s eiland en krijgt daar niet enkel met deze übergorillate maken maar ook met andere tot monsterlijke afmetingen gegroeide beesten. Zo moet je het ondermeer opnemen tegen een enorme dinosaurus en een al even grote duizendpoot.

Na een tijd krijg je zelfs de controle over King Kong himself, en dan wordt hetpas echt interessant..

Aantal spelers

1 Speler
Lees meer
Beschikbaar in winkels. Bekijk winkels met voorraad.
Momenteel niet beschikbaar
Gratis verzending

vanaf 30 euro

Betaal veilig online

via je eigen bank

Ontvang coins

& unlock badges met Game Mania XP (meer info)
Verhaallijn

Iedereen kent de klassieke King Kong film wel. Met als vaakst geparodieerde scène degene waar de gigantische aap het flatgebouw beklimt. Peter Jackson (bekend als regisseur van the Lord of the Rings) heefteen remake van deze film gemaakt en daar hoort natuurlijk een game bij.

Spelervaring

De game is afwisselend third person en first person. Je zit op King Kong?s eiland en krijgt daar niet enkel met deze übergorillate maken maar ook met andere tot monsterlijke afmetingen gegroeide beesten. Zo moet je het ondermeer opnemen tegen een enorme dinosaurus en een al even grote duizendpoot.

Na een tijd krijg je zelfs de controle over King Kong himself, en dan wordt hetpas echt interessant..

Aantal spelers

1 Speler
Misschien vind je deze producten ook interessant?
Productspecificaties
| | |
| --- | --- |
| Spelmodi | Singleplayer |
| PEGI leeftijd | 12 |
| PEGI inhoud | Geweld |
| Uitgever | Ubisoft |
| Releasedatum | 01.12.2005 |
| EAN | 3307210206756 |
| Genre | Action, Adventure |
Koop nu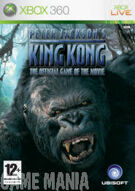 King Kong
Beschikbaar in winkels. Bekijk winkels met voorraad.
Momenteel niet beschikbaar
x
**NOT FOUND** key: product.askQuestion