Om een review te schrijven moet je eerst inloggen.
Log hier in.
Crisis Core: Final Fantasy VII - Reunion
Compatible met: PlayStation 5
Gratis verzending

vanaf 30 euro

Extra korting

met Game Mania XP (meer info)

Winnaar Beste Winkelketen van België


categorie Speelgoed & Games
better graphics then the original crisis core
Good music
Awesome story
Voice acting a tiny bit awkward
Not as high quality as final fantasy VII remake
While I've never played the original I've seen a lot of clips and videos and think playing this remaster was even more wonderful then the original game! It does feel a bit rushed quality wise if you compare it to final fantasy VII remake but compared to the original version of crisis core it's a nice remaster.
One of the best Final Fantasy games, remastered
If you're a Final Fantasy, or FFVII fan - this is a must have. Beautiful story, excellent gameplay, and a crazy amount of depth for a PSP game from 2007. And that's a comment about the original - this remaster is even better. But I will repeat the point above - this is a remaster of a 2007 PSP (handheld) game. It's a faithful remaster, with excellent graphics. But it IS a remaster, not a "remake" - the level design is still based on the original (straightforward) PSP maps; the (side) missions are still selectable from your menu (and not a huge 2022 PS5 open world..); and so on. So please don't buy this expecting FFVII Part 2 or Calisto Protocol graphics/world... that's like buying a McLaren F1 or a vintage Ferrari and complaining that it doesn't have an automatic transmission... The main benefit (aside of the huge graphic upgrade, obviously) of this remaster is the improved combat system. It's very fluid, has hotkeys for all 6 of your materia slots, and lots of combo possibilities (e.g. some command materia abilities do more damage after a few consecutive normal attacks and combo perfectly; following up a normal attack with a spell will cause you to perform a quick dodge backwards; etc.) Best of all - you can play this game like a more RPG version of Dark Souls. Just choose the Hard difficulty, and either keep your own power under control, and/or try completing missions as they become available (which will get very challenging). To anyone complaining about "it's hack and slash" - no, you're just playing it on easy, and not using your materia properly. The most fun I've had in this game is against enemies that can kill you in one or two hits, timing perfect dodges, using abilities like Jump to evade attacks, and so on. If you played the original, you're probably already buying this, but do keep in mind the original FMVs are still in the game, just in higher resolution. They are clearly not as detailed as say FFVII Remake, but they are still absolutely beautiful (and even more so if you consider they were made in 2007), and seeing them on a big screen (vs PSP) is almost worth it by itself. Also - to the one person complaining about "oh it has 300 missions, it's boring" - if you don't want efficient side quests with lots of excellent loot, that's fine, just don't play them. For those who want additional (CRAZY) loot, very challenging fights, opportunities to take out (literally) 1000 Shinra troops, or extremely hard optional bosses... yeah, the 300 missions are one of the best things about the game when it comes to depth/content (again, do not play them on Easy...). Yes, they use variations of the same several (now quite beautiful..) terrains. But learn how to avoid random encounters in them (cough hug the wall COUGH), and actually USE the items and gear you get from them! This is one of very few Final Fantasy's with 99,999 damage/health/etc. breakable limits. So to sum up - if you know what this game is and are considering it - buy it. If you don't like RPGs, or you didn't like FFVII Remake, or hate Souls type games with dodge mechanics... then maybe skip it until you learn to enjoy those, and then give it a chance.
Zeer degelijke port van de PSP. Het verhaal verveelt niet, helaas de 300 missies (side quests) wel. Deze zijn heel repetitief en saai. Maar als FF7 fan kan ik dat (deels) bedekken met de mantel der liefde.
vind de game play niet echt ff7.
Betere graphics voor een topspel
Leuke game in afwachting van FF7 part 2
Graphics zijn niet op het niveau van FF7 Remake maar goed genoeg. Gameplay is goed, alhoewel in het begin als herhaling button mashing voelt.
Summon animaties
In FF7 Universe
Voor sommigen eerder een eentonige hack and slash
Goeie engine, visuals zijn goed voor een remaster. De summon animaties zijn top. Beetje eentonig wel, waar je in FF7 remake kan wisselen tussen je personages en net iets meer keuze hebt in je moveset is dit een trapje simpeler; het is dan ook een psp game, in essentie. Voor fans van de verhaallijn is het wel de moeite. Enkele personages (zoals Tseng van de Turks) krijgen een uitgebreidere achtergrond en nu *spoilers voor FF7 remake* de verhaallijn kan/zal veranderen, is dat misschien wel extra interessant.
Een goeie make over van een populaire spel
verschil goed te zijn met het orgin
Mooi gemaakt
Het combat systeem is even wennen.
Goed product. Ik ben een grote Final Fantasy fan. Goed verhaal. Echt de moeite waard
Ik vind het echt een toffe remaster. Het combat systeem is flink op de schop gegaan en veel fijner dan het was. De graphics zijn ook flink verbeterd. Echt een topgame.
Heb veel van crisis core gehoord ma nooit gespeeld, en nu kan ik het eindelijk beleven. Love Final Fantasy.
Boeiend en geslaagde Remaster
Boeiend verhaal en goede aanvulling op de gekende Final Fantasy 7. Leuke gevechten mooie graphics voor een remasterd PSP spel. Je bent zoet voor 40-60 uren leuke gameplay.
Zeker een aanrader die je moet spelen als je van de FF7 series houd
Good game, It brings me back to the time grinding and playing crisis core on the PSP! Love to play it again on big screen! With the nice Quality and performance!
Misschien vind je deze producten ook interessant?
Productspecificaties
| | |
| --- | --- |
| Spelmodi | Singleplayer |
| Gesproken taal | Engels |
| Geschreven taal | Engels |
| PEGI leeftijd | 16 |
| PEGI inhoud | Geweld |
| Ontwikkelaar | Square Enix |
| Uitgever | Square Enix |
| Releasedatum | 13.12.2022 |
| EAN | 5021290095168 |
| Thema | Final Fantasy |
| Compatibel met | PlayStation 5 |
| Genre | Action, RPG |
Koop nu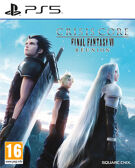 Crisis Core: Final Fantasy VII - Reunion
**NOT FOUND** key: product.askQuestion