Eindelijk kan je nu die klassiekers uit de jaren 80 zingen. Ga terug in de tijd, neem die microfoon en begin er aan. Misschien zing je in het begin niet zo geweldig, maar het spel zal je helpen om beter te worden. Met de Eye Toy kan je jezelf nu ook zien op het het scherm, dus werk ook maar aan je act.

Tracklist:

Culture Club - Karma Chameleon
Dexy's Midnight Runners - Come On Eileen
Vanilla Ice - Ice Ice Baby
Tears for Fears - Everybody Wants to Rule to World
Belinda Carlisle - Heaven is a Place on Earth
Simple Minds - Don't You (Forget About Me)
The Cure - Just Like Heaven
Nena - 99 Red Balloons
INXS - Never Tear Us Apart
Frankie Goes to Hollywood - Power of Love
Blondie - Atomic
Kate Bush - Running up that Hill
Foreigner - I want to know what Love is
Fairground Attraction - Perfect
Europe - The Final Countdown
Soft Cell - Tainted Love
Wham! - Wake me up before you go, go
Pretenders - Brass in pocket
Billy Joel - Uptown Girl
Erasure - A little respect
Duran Duran - Rio
Starship - We built this city
Katrina and the Waves Walking on Sunshine
Tina Turner Simply the Best
Madonna Material Girl
Alice Cooper Poison
Survivor Eye Of the Tiger
Run DMC It s Tricky
Dolly Parton 9 to 5
Madness Our House

USED
Productcode: U116698
Eindelijk kan je nu die klassiekers uit de jaren 80 zingen. Ga terug in de tijd, neem die microfoon en begin er aan. Misschien zing je in het begin niet zo geweldig, maar het spel zal je helpen om beter te worden. Met de Eye Toy kan je jezelf nu ook zien op het het scherm, dus werk ook maar aan je act.

Tracklist:

Culture Club - Karma Chameleon
Dexy's Midnight Runners - Come On Eileen
Vanilla Ice - Ice Ice Baby
Tears for Fears - Everybody Wants to Rule to World
Belinda Carlisle - Heaven is a Place on Earth
Simple Minds - Don't You (Forget About Me)
The Cure - Just Like Heaven
Nena - 99 Red Balloons
INXS - Never Tear Us Apart
Frankie Goes to Hollywood - Power of Love
Blondie - Atomic
Kate Bush - Running up that Hill
Foreigner - I want to know what Love is
Fairground Attraction - Perfect
Europe - The Final Countdown
Soft Cell - Tainted Love
Wham! - Wake me up before you go, go
Pretenders - Brass in pocket
Billy Joel - Uptown Girl
Erasure - A little respect
Duran Duran - Rio
Starship - We built this city
Katrina and the Waves Walking on Sunshine
Tina Turner Simply the Best
Madonna Material Girl
Alice Cooper Poison
Survivor Eye Of the Tiger
Run DMC It s Tricky
Dolly Parton 9 to 5
Madness Our House

Lees meer
Beschikbaar in winkels. Bekijk winkels met voorraad.
Momenteel niet beschikbaar
Op alle USED producten ontvang je 100% garantie. DLC codes meegeleverd met USED producten kunnen al gebruikt zijn.
Gratis verzending

vanaf 30 euro

Betaal veilig online

via je eigen bank

Ontvang coins

& unlock badges met Game Mania XP (meer info)
Eindelijk kan je nu die klassiekers uit de jaren 80 zingen. Ga terug in de tijd, neem die microfoon en begin er aan. Misschien zing je in het begin niet zo geweldig, maar het spel zal je helpen om beter te worden. Met de Eye Toy kan je jezelf nu ook zien op het het scherm, dus werk ook maar aan je act.

Tracklist:

Culture Club - Karma Chameleon
Dexy's Midnight Runners - Come On Eileen
Vanilla Ice - Ice Ice Baby
Tears for Fears - Everybody Wants to Rule to World
Belinda Carlisle - Heaven is a Place on Earth
Simple Minds - Don't You (Forget About Me)
The Cure - Just Like Heaven
Nena - 99 Red Balloons
INXS - Never Tear Us Apart
Frankie Goes to Hollywood - Power of Love
Blondie - Atomic
Kate Bush - Running up that Hill
Foreigner - I want to know what Love is
Fairground Attraction - Perfect
Europe - The Final Countdown
Soft Cell - Tainted Love
Wham! - Wake me up before you go, go
Pretenders - Brass in pocket
Billy Joel - Uptown Girl
Erasure - A little respect
Duran Duran - Rio
Starship - We built this city
Katrina and the Waves Walking on Sunshine
Tina Turner Simply the Best
Madonna Material Girl
Alice Cooper Poison
Survivor Eye Of the Tiger
Run DMC It s Tricky
Dolly Parton 9 to 5
Madness Our House

Misschien vind je deze producten ook interessant?
Productspecificaties
| | |
| --- | --- |
| Spelmodi | Singleplayer |
| PEGI leeftijd | 3 |
| Uitgever | Sony |
| Releasedatum | 09.11.2005 |
| EAN | 711719199410 |
| Genre | Music |
Koop nu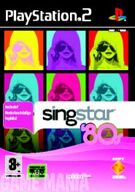 Singstar 80's
Beschikbaar in winkels. Bekijk winkels met voorraad.
Momenteel niet beschikbaar
x
**NOT FOUND** key: product.askQuestion