Ze bestaan echt, de Mixed Martial Arts Fights. Iedere maand worden er in de VSA verschillende kooien, arena's en ringen opgetrokken om krijgers uit verschillende vechtstijlen samen te brengen.

De World Fighting League, Delta Fighting, UFC, Cage Combat, Warriors Quest, Extreme Fighting, Reality Fighting, Combat-Do Fighting, Pankration Championships, CombatZone, Total Fight Challenge, Freestyle Sambo Championships, TapOut, Grapplers Quest, Battle at the Beach,... de namen spreken voor zich. De resultaten kan je bekijken op gegeerde DVD's en via wereldwijde webcasts. Enkele krijgers kunnen ondertussen zelfs al op een sterrenstatus rekenen... en heel eerlijk: ik heb geen zin om tegen kerels zoals Bas Rutten, of Rob Razor McCollough te vertellen dathun namen me helemaal niets zeggen!

- 10 personages
- Gevechtsstijlen zoals Karate, Thaï boksen, worstelen en Kung-Fu
- 4 arena's

- voor 1-2 spelers
- memory card 8Mb: 25Kb
USED
Productcode: U115826
Ze bestaan echt, de Mixed Martial Arts Fights. Iedere maand worden er in de VSA verschillende kooien, arena's en ringen opgetrokken om krijgers uit verschillende vechtstijlen samen te brengen.

De World Fighting League, Delta Fighting, UFC, Cage Combat, Warriors Quest, Extreme Fighting, Reality Fighting, Combat-Do Fighting, Pankration Championships, CombatZone, Total Fight Challenge, Freestyle Sambo Championships, TapOut, Grapplers Quest, Battle at the Beach,... de namen spreken voor zich. De resultaten kan je bekijken op gegeerde DVD's en via wereldwijde webcasts. Enkele krijgers kunnen ondertussen zelfs al op een sterrenstatus rekenen... en heel eerlijk: ik heb geen zin om tegen kerels zoals Bas Rutten, of Rob Razor McCollough te vertellen dathun namen me helemaal niets zeggen!

- 10 personages
- Gevechtsstijlen zoals Karate, Thaï boksen, worstelen en Kung-Fu
- 4 arena's

- voor 1-2 spelers
- memory card 8Mb: 25Kb
Lees meer
Beschikbaar in winkels. Bekijk winkels met voorraad.
Momenteel niet beschikbaar
Op alle USED producten ontvang je 100% garantie. DLC codes meegeleverd met USED producten kunnen al gebruikt zijn.
Gratis verzending

vanaf 30 euro

Betaal veilig online

via je eigen bank

Ontvang coins

& unlock badges met Game Mania XP (meer info)
Ze bestaan echt, de Mixed Martial Arts Fights. Iedere maand worden er in de VSA verschillende kooien, arena's en ringen opgetrokken om krijgers uit verschillende vechtstijlen samen te brengen.

De World Fighting League, Delta Fighting, UFC, Cage Combat, Warriors Quest, Extreme Fighting, Reality Fighting, Combat-Do Fighting, Pankration Championships, CombatZone, Total Fight Challenge, Freestyle Sambo Championships, TapOut, Grapplers Quest, Battle at the Beach,... de namen spreken voor zich. De resultaten kan je bekijken op gegeerde DVD's en via wereldwijde webcasts. Enkele krijgers kunnen ondertussen zelfs al op een sterrenstatus rekenen... en heel eerlijk: ik heb geen zin om tegen kerels zoals Bas Rutten, of Rob Razor McCollough te vertellen dathun namen me helemaal niets zeggen!

- 10 personages
- Gevechtsstijlen zoals Karate, Thaï boksen, worstelen en Kung-Fu
- 4 arena's

- voor 1-2 spelers
- memory card 8Mb: 25Kb
Misschien vind je deze producten ook interessant?
Productspecificaties
| | |
| --- | --- |
| Spelmodi | Singleplayer |
| PEGI leeftijd | 12 |
| PEGI inhoud | Geweld |
| Uitgever | 505 Games |
| Releasedatum | 29.06.2005 |
| EAN | 8023171003849 |
| Genre | Fighting |
Koop nu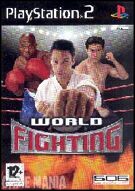 World Fighting
Beschikbaar in winkels. Bekijk winkels met voorraad.
Momenteel niet beschikbaar
x
**NOT FOUND** key: product.askQuestion