Smash Court Tennis Pro Tournament 2
Kim, Justine en de rest van de tennistop gaven met plezier hun toestemming om met jou een balletje te komen meppen.
Versla je tegenstanders met je keiharde service en hoge slams. Of speel verfijnd met dodelijke dropshots en goedgeplaatste lobs.

Maar hoe je het ook aanpakt: Sla je tegenstander meedogenloos uit het veld!

- Alle Grand Slams:
Roland Garros, Australian Open, US open en Wimbledon

- 16 Toptennissterren:
Clijsters, Henin-Hardenne, Roddick, Hewitt, Safin, Haas, Blake, Gasquet, Ferrero, Henman, Capriati, Hantuchova, Mauresmo, Kournikova, Davenport en Serena Williams

- Speel als (gemengd) dubbel, of win het toernooi helemaal in je eentje...

- Voor 1-4 spelers ( via optionele PS2 Multitap)
- Memory card 8Mb: 550Kb

- EAN 711719642145
- Art. 14168
USED
Productcode: U114168
Kim, Justine en de rest van de tennistop gaven met plezier hun toestemming om met jou een balletje te komen meppen.
Versla je tegenstanders met je keiharde service en hoge slams. Of speel verfijnd met dodelijke dropshots en goedgeplaatste lobs.

Maar hoe je het ook aanpakt: Sla je tegenstander meedogenloos uit het veld!

- Alle Grand Slams:
Roland Garros, Australian Open, US open en Wimbledon

- 16 Toptennissterren:
Clijsters, Henin-Hardenne, Roddick, Hewitt, Safin, Haas, Blake, Gasquet, Ferrero, Henman, Capriati, Hantuchova, Mauresmo, Kournikova, Davenport en Serena Williams

- Speel als (gemengd) dubbel, of win het toernooi helemaal in je eentje...

- Voor 1-4 spelers ( via optionele PS2 Multitap)
- Memory card 8Mb: 550Kb

- EAN 711719642145
- Art. 14168
Lees meer
Beschikbaar in winkels. Bekijk winkels met voorraad.
Momenteel niet beschikbaar
Op alle USED producten ontvang je 100% garantie. DLC codes meegeleverd met USED producten kunnen al gebruikt zijn.
Gratis verzending

vanaf 30 euro

Betaal veilig online

via je eigen bank

Ontvang coins

& unlock badges met Game Mania XP (meer info)
Kim, Justine en de rest van de tennistop gaven met plezier hun toestemming om met jou een balletje te komen meppen.
Versla je tegenstanders met je keiharde service en hoge slams. Of speel verfijnd met dodelijke dropshots en goedgeplaatste lobs.

Maar hoe je het ook aanpakt: Sla je tegenstander meedogenloos uit het veld!

- Alle Grand Slams:
Roland Garros, Australian Open, US open en Wimbledon

- 16 Toptennissterren:
Clijsters, Henin-Hardenne, Roddick, Hewitt, Safin, Haas, Blake, Gasquet, Ferrero, Henman, Capriati, Hantuchova, Mauresmo, Kournikova, Davenport en Serena Williams

- Speel als (gemengd) dubbel, of win het toernooi helemaal in je eentje...

- Voor 1-4 spelers ( via optionele PS2 Multitap)
- Memory card 8Mb: 550Kb

- EAN 711719642145
- Art. 14168
Misschien vind je deze producten ook interessant?
Productspecificaties
| | |
| --- | --- |
| Spelmodi | Singleplayer |
| Uitgever | Bandai Namco Entertainment |
| Releasedatum | 26.05.2004 |
| EAN | 711719642145 |
Koop nu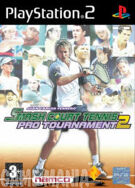 Smash Court Tennis Pro Tournament 2
Beschikbaar in winkels. Bekijk winkels met voorraad.
Momenteel niet beschikbaar
x
**NOT FOUND** key: product.askQuestion