ShellShock duwt je kopje onder in het meest controversiële conflict van de 20e eeuw: de oorlog in Vietnam.


Het is januari 1967 en je bent opgeroepen voor militaire dienst. De basistraining in een comfortabele Amerikaanse basis viel best mee, denk jezo bij jezelf. Na 6 weken brullen hebben de drilinstructeurs je hoofd volgepompt met heldhaftige gedachten over god, glorie, eer en vaderland.


Die waanbeelden verdwijnen echter snel eens je in de stomende jungle van Indochina wordt gedropt. De werkelijkheid van de smerige oorlog slaat je als een zweep in het gezicht. Voel het angstzweet van je lijf druipen. Ruik de chaos. Proef de wreedheid van deze oorlog. Er is geen glorie in doodgaan. Er is geen eer in deze slachtpartijen. Van de napalmbombardementen op nietsvermoedende dorpjes, tot de verschrikkelijke boobytraps van de VietCong. Van de permanente dreiging van een onzichtbare vijand, tot de dodelijk simpele hinderlagen, ShellShock durft je verder mee te zuigen in deze hel dan ooit één ander Vietnam-spel waagde.


Als je die Tour of Duty wil overleven, zal je snel een expert moeten worden in zowel oerwoudgevechten, als in stadsguerrilla. Elke struik kan een valstrik verbergen. Achter elke deur kan een VC schuilen.

Je kan overleven, of sterven... Enkel overwinnen zit er niet in...

- Voor 1 gewaarschuwde speler

Minimumvereisten:
- Pentium III 1Ghz
- 256Mb Ram
- 32Mb Direct3D videokaart met Pixel Shading & TnL-ondersteuning (GeForce 3+) - 3Gb vrije harde schijfruimte
- DVD-rom drive

- EAN 5032921020824
- Art. 14151
USED
Productcode: U114154
ShellShock duwt je kopje onder in het meest controversiële conflict van de 20e eeuw: de oorlog in Vietnam.


Het is januari 1967 en je bent opgeroepen voor militaire dienst. De basistraining in een comfortabele Amerikaanse basis viel best mee, denk jezo bij jezelf. Na 6 weken brullen hebben de drilinstructeurs je hoofd volgepompt met heldhaftige gedachten over god, glorie, eer en vaderland.


Die waanbeelden verdwijnen echter snel eens je in de stomende jungle van Indochina wordt gedropt. De werkelijkheid van de smerige oorlog slaat je als een zweep in het gezicht. Voel het angstzweet van je lijf druipen. Ruik de chaos. Proef de wreedheid van deze oorlog. Er is geen glorie in doodgaan. Er is geen eer in deze slachtpartijen. Van de napalmbombardementen op nietsvermoedende dorpjes, tot de verschrikkelijke boobytraps van de VietCong. Van de permanente dreiging van een onzichtbare vijand, tot de dodelijk simpele hinderlagen, ShellShock durft je verder mee te zuigen in deze hel dan ooit één ander Vietnam-spel waagde.


Als je die Tour of Duty wil overleven, zal je snel een expert moeten worden in zowel oerwoudgevechten, als in stadsguerrilla. Elke struik kan een valstrik verbergen. Achter elke deur kan een VC schuilen.

Je kan overleven, of sterven... Enkel overwinnen zit er niet in...

- Voor 1 gewaarschuwde speler

Minimumvereisten:
- Pentium III 1Ghz
- 256Mb Ram
- 32Mb Direct3D videokaart met Pixel Shading & TnL-ondersteuning (GeForce 3+) - 3Gb vrije harde schijfruimte
- DVD-rom drive

- EAN 5032921020824
- Art. 14151
Lees meer
Beschikbaar in winkels. Bekijk winkels met voorraad.
Momenteel niet beschikbaar
Op alle USED producten ontvang je 100% garantie. DLC codes meegeleverd met USED producten kunnen al gebruikt zijn.
Gratis verzending

vanaf 30 euro

Betaal veilig online

via je eigen bank

Ontvang coins

& unlock badges met Game Mania XP (meer info)
ShellShock duwt je kopje onder in het meest controversiële conflict van de 20e eeuw: de oorlog in Vietnam.


Het is januari 1967 en je bent opgeroepen voor militaire dienst. De basistraining in een comfortabele Amerikaanse basis viel best mee, denk jezo bij jezelf. Na 6 weken brullen hebben de drilinstructeurs je hoofd volgepompt met heldhaftige gedachten over god, glorie, eer en vaderland.


Die waanbeelden verdwijnen echter snel eens je in de stomende jungle van Indochina wordt gedropt. De werkelijkheid van de smerige oorlog slaat je als een zweep in het gezicht. Voel het angstzweet van je lijf druipen. Ruik de chaos. Proef de wreedheid van deze oorlog. Er is geen glorie in doodgaan. Er is geen eer in deze slachtpartijen. Van de napalmbombardementen op nietsvermoedende dorpjes, tot de verschrikkelijke boobytraps van de VietCong. Van de permanente dreiging van een onzichtbare vijand, tot de dodelijk simpele hinderlagen, ShellShock durft je verder mee te zuigen in deze hel dan ooit één ander Vietnam-spel waagde.


Als je die Tour of Duty wil overleven, zal je snel een expert moeten worden in zowel oerwoudgevechten, als in stadsguerrilla. Elke struik kan een valstrik verbergen. Achter elke deur kan een VC schuilen.

Je kan overleven, of sterven... Enkel overwinnen zit er niet in...

- Voor 1 gewaarschuwde speler

Minimumvereisten:
- Pentium III 1Ghz
- 256Mb Ram
- 32Mb Direct3D videokaart met Pixel Shading & TnL-ondersteuning (GeForce 3+) - 3Gb vrije harde schijfruimte
- DVD-rom drive

- EAN 5032921020824
- Art. 14151
Misschien vind je deze producten ook interessant?
Productspecificaties
| | |
| --- | --- |
| Spelmodi | Singleplayer |
| PEGI leeftijd | 18 |
| PEGI inhoud | Geweld |
| Uitgever | Eidos |
| Releasedatum | 02.09.2004 |
| EAN | 5032921020848 |
Koop nu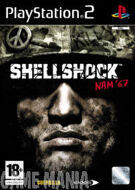 Shellshock - Nam '67
Beschikbaar in winkels. Bekijk winkels met voorraad.
Momenteel niet beschikbaar
x
**NOT FOUND** key: product.askQuestion