Zone of The Enders 2 - The 2nd Runner
Dit is waar de aan Manga verslaafde Japanners toch zo sterk in zijn: flitsende actie, interstellaire ruimtegevechten en reusachtige, tot de tanden bewapende gevechtsrobots.
Na jarenlange onderdrukking door de Aardlingen komen de bewoners van Mars en Jupiter in opstand. Gesteund door een armada Anubis-battlemech's vegen ze het aardleger weg... en installeren hun eigen terreurbewind. Slechts een verloren gewaand prototype gevechtsrobot zou terug rust kunnen brengen. Niemand weet echter waar deze is verborgen, tot...

_x000D_ - Voor 1-2 spelers

_x000D_ - EAN 4012927022412
_x000D_ - Art. 11836
USED
Productcode: U111836
Dit is waar de aan Manga verslaafde Japanners toch zo sterk in zijn: flitsende actie, interstellaire ruimtegevechten en reusachtige, tot de tanden bewapende gevechtsrobots.
Na jarenlange onderdrukking door de Aardlingen komen de bewoners van Mars en Jupiter in opstand. Gesteund door een armada Anubis-battlemech's vegen ze het aardleger weg... en installeren hun eigen terreurbewind. Slechts een verloren gewaand prototype gevechtsrobot zou terug rust kunnen brengen. Niemand weet echter waar deze is verborgen, tot...

_x000D_ - Voor 1-2 spelers

_x000D_ - EAN 4012927022412
_x000D_ - Art. 11836
Lees meer
Beschikbaar in winkels. Bekijk winkels met voorraad.
Momenteel niet beschikbaar
Op alle USED producten ontvang je 100% garantie. DLC codes meegeleverd met USED producten kunnen al gebruikt zijn.
Gratis verzending

vanaf 30 euro

Betaal veilig online

via je eigen bank

Ontvang coins

& unlock badges met Game Mania XP (meer info)
Dit is waar de aan Manga verslaafde Japanners toch zo sterk in zijn: flitsende actie, interstellaire ruimtegevechten en reusachtige, tot de tanden bewapende gevechtsrobots.
Na jarenlange onderdrukking door de Aardlingen komen de bewoners van Mars en Jupiter in opstand. Gesteund door een armada Anubis-battlemech's vegen ze het aardleger weg... en installeren hun eigen terreurbewind. Slechts een verloren gewaand prototype gevechtsrobot zou terug rust kunnen brengen. Niemand weet echter waar deze is verborgen, tot...

_x000D_ - Voor 1-2 spelers

_x000D_ - EAN 4012927022412
_x000D_ - Art. 11836
Misschien vind je deze producten ook interessant?
Productspecificaties
| | |
| --- | --- |
| Spelmodi | Singleplayer |
| Uitgever | Konami |
| Releasedatum | 17.10.2003 |
| EAN | 4012927022412 |
Koop nu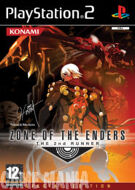 Zone of The Enders 2 - The 2nd Runner
Beschikbaar in winkels. Bekijk winkels met voorraad.
Momenteel niet beschikbaar
x
**NOT FOUND** key: product.askQuestion