Na een kaskraker in de bioscopen, nu ook een hitgame! Gebruik alle bovenmenselijke krachten van Spider-Man om de stad te beschermen tegen de superschurken uit de film. Flits als een volleerde spinnenacrobaat tegen duizelingwekkende snelheid doorheen de filmdecors.

_x000D_ Twee jaren zijn verstreken sinds je de Spider-Man bent geworden en eindelijk sta je oog in oog met de gevaarlijkste vijand ooit: Doc Ock. Nu rekent de ganse stad op jouw interventie om haar te redden...

Met de stemmen van:
- Tobey Maguire (Spider-Man, Seabiscuit, Cats & Dogs, Ride with the devil,...)
- Kirsten Dunst ( Spider-Man, Mona Lisa Smile, Drop Dead Gorgeous, The Virgin Suicides, Small Soldiers, ER, Interview with the Vampire,....)
- Alfred Molina (Indiana Jones & The Raiders of the Lost Ark, Ladyhawke, Manifesto, Maverick, Species, Boogie nights, Spider-Man 2,...

- Voor 1 speler
- Memory card 8Mb: 200Kb

- EAN 5030917023002
- Art. 14178
NEW
Productcode: 114178
Na een kaskraker in de bioscopen, nu ook een hitgame! Gebruik alle bovenmenselijke krachten van Spider-Man om de stad te beschermen tegen de superschurken uit de film. Flits als een volleerde spinnenacrobaat tegen duizelingwekkende snelheid doorheen de filmdecors.

_x000D_ Twee jaren zijn verstreken sinds je de Spider-Man bent geworden en eindelijk sta je oog in oog met de gevaarlijkste vijand ooit: Doc Ock. Nu rekent de ganse stad op jouw interventie om haar te redden...

Met de stemmen van:
- Tobey Maguire (Spider-Man, Seabiscuit, Cats & Dogs, Ride with the devil,...)
- Kirsten Dunst ( Spider-Man, Mona Lisa Smile, Drop Dead Gorgeous, The Virgin Suicides, Small Soldiers, ER, Interview with the Vampire,....)
- Alfred Molina (Indiana Jones & The Raiders of the Lost Ark, Ladyhawke, Manifesto, Maverick, Species, Boogie nights, Spider-Man 2,...

- Voor 1 speler
- Memory card 8Mb: 200Kb

- EAN 5030917023002
- Art. 14178
Lees meer
Beschikbaar in winkels. Bekijk winkels met voorraad.
Momenteel niet beschikbaar
Gratis verzending

vanaf 30 euro

Betaal veilig online

via je eigen bank

Ontvang coins

& unlock badges met Game Mania XP (meer info)
Na een kaskraker in de bioscopen, nu ook een hitgame! Gebruik alle bovenmenselijke krachten van Spider-Man om de stad te beschermen tegen de superschurken uit de film. Flits als een volleerde spinnenacrobaat tegen duizelingwekkende snelheid doorheen de filmdecors.

_x000D_ Twee jaren zijn verstreken sinds je de Spider-Man bent geworden en eindelijk sta je oog in oog met de gevaarlijkste vijand ooit: Doc Ock. Nu rekent de ganse stad op jouw interventie om haar te redden...

Met de stemmen van:
- Tobey Maguire (Spider-Man, Seabiscuit, Cats & Dogs, Ride with the devil,...)
- Kirsten Dunst ( Spider-Man, Mona Lisa Smile, Drop Dead Gorgeous, The Virgin Suicides, Small Soldiers, ER, Interview with the Vampire,....)
- Alfred Molina (Indiana Jones & The Raiders of the Lost Ark, Ladyhawke, Manifesto, Maverick, Species, Boogie nights, Spider-Man 2,...

- Voor 1 speler
- Memory card 8Mb: 200Kb

- EAN 5030917023002
- Art. 14178
Misschien vind je deze producten ook interessant?
Productspecificaties
| | |
| --- | --- |
| Spelmodi | Singleplayer |
| PEGI leeftijd | 12 |
| Uitgever | Activision |
| Releasedatum | 08.07.2004 |
| EAN | 5030917023002 |
Koop nu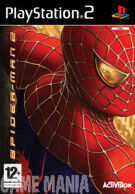 Spider-Man 2
Beschikbaar in winkels. Bekijk winkels met voorraad.
Momenteel niet beschikbaar
x
**NOT FOUND** key: product.askQuestion