Tak and The Power of Juju
De tovenaar Tlaloc heeft de Maanstenen gestolen. Hierdoor heeft de Maangodin Juju haar macht verloren.
De Pupanunu-indianenstam panikeert. Normaal zou de dappere Lok, beschermer van de stam en hoofdleerling van sjamaan Jibolba, ten strijde trekken om de Maanstenen terug te krijgen. Helaas heeft een toverspreuk van boosaardige Tlaloc hier een stokje voorgestoken. Al wat Lok nog kan doen is schaapachtig rondkijken en mals gras zoeken om te grazen...
Flora, de dochter van godin Juju kiest de kleine Pupanunu-indiaan Tak uit om de taak van Lok over te nemen... maar wat kan die arme Tak in de strijd werpen? Zijn verstand en zijn wat... zijn kippenpak?

_x000D_ - Voor 1 speler
- Memory Card 8Mb: 376Kb

- EAN 4005209053822
- Art. 13454
NEW
Productcode: 113454
De tovenaar Tlaloc heeft de Maanstenen gestolen. Hierdoor heeft de Maangodin Juju haar macht verloren.
De Pupanunu-indianenstam panikeert. Normaal zou de dappere Lok, beschermer van de stam en hoofdleerling van sjamaan Jibolba, ten strijde trekken om de Maanstenen terug te krijgen. Helaas heeft een toverspreuk van boosaardige Tlaloc hier een stokje voorgestoken. Al wat Lok nog kan doen is schaapachtig rondkijken en mals gras zoeken om te grazen...
Flora, de dochter van godin Juju kiest de kleine Pupanunu-indiaan Tak uit om de taak van Lok over te nemen... maar wat kan die arme Tak in de strijd werpen? Zijn verstand en zijn wat... zijn kippenpak?

_x000D_ - Voor 1 speler
- Memory Card 8Mb: 376Kb

- EAN 4005209053822
- Art. 13454
Lees meer
Beschikbaar in winkels. Bekijk winkels met voorraad.
Momenteel niet beschikbaar
Gratis verzending

vanaf 30 euro

Betaal veilig online

via je eigen bank

Ontvang coins

& unlock badges met Game Mania XP (meer info)
De tovenaar Tlaloc heeft de Maanstenen gestolen. Hierdoor heeft de Maangodin Juju haar macht verloren.
De Pupanunu-indianenstam panikeert. Normaal zou de dappere Lok, beschermer van de stam en hoofdleerling van sjamaan Jibolba, ten strijde trekken om de Maanstenen terug te krijgen. Helaas heeft een toverspreuk van boosaardige Tlaloc hier een stokje voorgestoken. Al wat Lok nog kan doen is schaapachtig rondkijken en mals gras zoeken om te grazen...
Flora, de dochter van godin Juju kiest de kleine Pupanunu-indiaan Tak uit om de taak van Lok over te nemen... maar wat kan die arme Tak in de strijd werpen? Zijn verstand en zijn wat... zijn kippenpak?

_x000D_ - Voor 1 speler
- Memory Card 8Mb: 376Kb

- EAN 4005209053822
- Art. 13454
Misschien vind je deze producten ook interessant?
Productspecificaties
| | |
| --- | --- |
| Spelmodi | Singleplayer |
| Uitgever | THQ |
| Releasedatum | 12.03.2004 |
| EAN | 4005209053822 |
Koop nu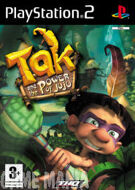 Tak and The Power of Juju
Beschikbaar in winkels. Bekijk winkels met voorraad.
Momenteel niet beschikbaar
x
**NOT FOUND** key: product.askQuestion