The Lord of the Rings - The Fellowship of the Ring
De Duistere Heer Sauron is herrezen om Midden-Aarde te onderwerpen. Voor het zo ver is, moet hij eerst de Ring-die-heerst-over-de-andere-Ringen bemachtigen en die is in handen van de dappere Hobbit Frodo. Deze is vastbesloten om de Ring te vernietigen voor hij in verkeerde handen valt. Het wordt een zware tocht vol gevaren.
Speel de zwaardvechter Aragorn, de magiër Gandalf de Grijze, of Frodo zelf in dit overweldigende RPG-avontuur vol adembenemende landschappen zoals beschreven door JRR. Tolkien zelf.

- Dit spel is gebaseerd op het literaire werk van JRR. Tolkien.

- Voor 1 speler

- Memory Card 8Mb: 250Kb

- EAN 3348542155671
- Art. 11435
NEW
Productcode: 111435
De Duistere Heer Sauron is herrezen om Midden-Aarde te onderwerpen. Voor het zo ver is, moet hij eerst de Ring-die-heerst-over-de-andere-Ringen bemachtigen en die is in handen van de dappere Hobbit Frodo. Deze is vastbesloten om de Ring te vernietigen voor hij in verkeerde handen valt. Het wordt een zware tocht vol gevaren.
Speel de zwaardvechter Aragorn, de magiër Gandalf de Grijze, of Frodo zelf in dit overweldigende RPG-avontuur vol adembenemende landschappen zoals beschreven door JRR. Tolkien zelf.

- Dit spel is gebaseerd op het literaire werk van JRR. Tolkien.

- Voor 1 speler

- Memory Card 8Mb: 250Kb

- EAN 3348542155671
- Art. 11435
Lees meer
Beschikbaar in winkels. Bekijk winkels met voorraad.
Momenteel niet beschikbaar
Gratis verzending

vanaf 30 euro

Betaal veilig online

via je eigen bank

Ontvang coins

& unlock badges met Game Mania XP (meer info)
De Duistere Heer Sauron is herrezen om Midden-Aarde te onderwerpen. Voor het zo ver is, moet hij eerst de Ring-die-heerst-over-de-andere-Ringen bemachtigen en die is in handen van de dappere Hobbit Frodo. Deze is vastbesloten om de Ring te vernietigen voor hij in verkeerde handen valt. Het wordt een zware tocht vol gevaren.
Speel de zwaardvechter Aragorn, de magiër Gandalf de Grijze, of Frodo zelf in dit overweldigende RPG-avontuur vol adembenemende landschappen zoals beschreven door JRR. Tolkien zelf.

- Dit spel is gebaseerd op het literaire werk van JRR. Tolkien.

- Voor 1 speler

- Memory Card 8Mb: 250Kb

- EAN 3348542155671
- Art. 11435
Misschien vind je deze producten ook interessant?
Productspecificaties
| | |
| --- | --- |
| Spelmodi | Singleplayer |
| Uitgever | Vivendi |
| Releasedatum | 03.12.2002 |
| EAN | 3348542155671 |
Koop nu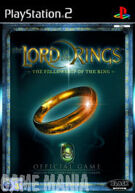 The Lord of the Rings - The Fellowship of the Ring
Beschikbaar in winkels. Bekijk winkels met voorraad.
Momenteel niet beschikbaar
x
**NOT FOUND** key: product.askQuestion