Om een review te schrijven moet je eerst inloggen.
Log hier in.
Compatible met: Nintendo Switch
Gratis verzending

vanaf 50 euro*

Extra korting

met Game Mania XP (meer info)

Winnaar Beste Winkelketen van België


categorie Speelgoed & Games
Een gigantische wereld wacht op je
Xenoblade 3 is alles wat we er van hadden kunnen verwachten. Diepe combat mechanics, gigantische wereld om te ontdekken, goed verhaal & kleurrijke omgevingen om te verkennen. Een spel waar de main story makkelijk 40 uur opneemt. Enkele minpunten: het spel gaat wat langzaam aan het begin en duurt een paar uur om op gang te komen. Sommige delen van combat worden niet supergoed uitgelegd. En tot slot geen teruglevelfeature wat er voor kan zorgen dat je overleveled raakt wanneer je alle side missies doet. Verder is het spel het zeker waard met een goed verhaal, veel side content met meer achtergrondinformatie. Een gigantische en mooie wereld te ontdekken en tie-ins van Xenoblade & Xenoblade 2. Met het beste van combat uit beide games
A unique story with unique combat to boot
The story is immediately engaging and the protagonists all have different personalities that match well together in such a way that the more you get to know them. The more sense they make to you aswel as interesting side characters who are all linked in an pleasing way with the affinity system. When it come to the gameplay it's very simply Superb the world is beautiful designed and there is a lot to explore walking around and seeing the wild life and engaging with them is quite entertaining, to go with that this game has combat unlike any other I have seen giving you a more so active role in the strategic planning and execution of your fight while the characters auto attack to fill up meters and bars to use super attack and all there is some very fun mechanics like the chain attack where you try to mash up attacks together in such a manner that you keep the chain going all and all this game has very unique combat but after getting used to it it's quite exteriorating exhilarating that with the story which really gets intense at moments. But a game can not only be positives the biggest problem I had was in my first hours or so where the game felt to big and there wasn't a proper way to do things that combined with the fact that at first changing classes is quite a drag as u do not know what classes to combine but after 15 hours or so this issue quickly resolved itself as I got to learn the games mechanism more. Overall this game is an experience which I highly recommend it's interesting unique and just very fun it its also quite lengthy so you get a bang for the money you spend on it
Het beste wat de switch te bieden heeft!
Het spel maakt de hoge verwachtingen die door 1 en 2 gecreeërd zijn meer dan waar. Wederom een meeslepend meesterwerk waar alles klopt. Het intuïtieve battle systeem, het verhaal dat van vrolijk naar zeer emotioneel gaat en de muziek die dit alles naar nog een veel hoger niveau tilt. Een must-have titel voor de gemiddelde switch-gamer.
Spel dat echt met passie is gemaakt. Alles is tot het kleinste detail uitgewerkt. De combat is uitdagend en er is een super gave open world waar je in mee gezogen wordt
Ik vond eerlijk gezegd Japanse rpg's altijd over de top en redelijk cringe. Toch wilde ik het nog een poging wagen en wauw wat ben ik blij dat ik dit spel gekocht heb. Ik kan m'n Switch niet loslaten. De story telling en de gameplay zijn top en zeer interessant. Ik ben nu ook benieuwd naar de rest.
Dit super spel is echt met passie gemaakt
Veel content
150 uur+ gameplay
Grote wereld
Veel dialoog (niet voor iedereen)
Dit spel heeft erg veel content van hoge kwaliteit zoals de makers van Xenoblade games altijd geven. De 60 euro volop waard
Na xenoblade chronicles 1 en 2 hoge verwachtingen. Dit spel heeft het weer waargemaakt!
Misschien vind je deze producten ook interessant?
Productspecificaties
| | |
| --- | --- |
| Spelmodi | Singleplayer |
| Gesproken taal | Engels |
| Geschreven taal | Engels |
| PEGI leeftijd | 12 |
| PEGI inhoud | Geweld |
| Uitgever | Nintendo |
| Releasedatum | 29.07.2022 |
| EAN | 45496429829 |
| Compatibel met | Nintendo Switch |
| Genre | Adventure, RPG |
Koop nu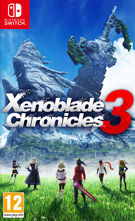 Xenoblade Chronicles 3
**NOT FOUND** key: product.askQuestion