Spider-man 2
Na een kaskraker in de bioscopen, nu ook een hitgame! Gebruik alle bovenmenselijke krachten van Spider-Man om de stad te beschermen tegen de superschurken uit de film. Flits als een volleerde spinnenacrobaat tegen duizelingwekkende snelheid doorheen de filmdecors. Twee jaren zijn verstreken sinds je de Spider-Man bent geworden en eindelijk sta je oog in oog met de gevaarlijkste vijand ooit: Doc Ock. Nu rekent de ganse stad op jouw interventie om haar te redden...

Met de stemmen van:
- Tobey Maguire (Spider-Man, Seabiscuit, Cats & Dogs, Ride with the devil,...)
- Kirsten Dunst ( Spider-Man, Mona Lisa Smile, Drop Dead Gorgeous, The Virgin Suicides, Small Soldiers, ER, Interview with the Vampire,....)
- Alfred Molina (Indiana Jones & The Raiders of the Lost Ark, Ladyhawke, Manifesto, Maverick, Species, Boogie nights, Spider-Man 2,...)


NEW
Productcode: 114173
Spider-man 2
Na een kaskraker in de bioscopen, nu ook een hitgame! Gebruik alle bovenmenselijke krachten van Spider-Man om de stad te beschermen tegen de superschurken uit de film. Flits als een volleerde spinnenacrobaat tegen duizelingwekkende snelheid doorheen de filmdecors. Twee jaren zijn verstreken sinds je de Spider-Man bent geworden en eindelijk sta je oog in oog met de gevaarlijkste vijand ooit: Doc Ock. Nu rekent de ganse stad op jouw interventie om haar te redden...

Met de stemmen van:
- Tobey Maguire (Spider-Man, Seabiscuit, Cats & Dogs, Ride with the devil,...)
- Kirsten Dunst ( Spider-Man, Mona Lisa Smile, Drop Dead Gorgeous, The Virgin Suicides, Small Soldiers, ER, Interview with the Vampire,....)
- Alfred Molina (Indiana Jones & The Raiders of the Lost Ark, Ladyhawke, Manifesto, Maverick, Species, Boogie nights, Spider-Man 2,...)


Lees meer
Beschikbaar in winkels. Bekijk winkels met voorraad.
Momenteel niet beschikbaar
Gratis verzending

vanaf 30 euro

Betaal veilig online

via je eigen bank

Ontvang coins

& unlock badges met Game Mania XP (meer info)
Spider-man 2
Na een kaskraker in de bioscopen, nu ook een hitgame! Gebruik alle bovenmenselijke krachten van Spider-Man om de stad te beschermen tegen de superschurken uit de film. Flits als een volleerde spinnenacrobaat tegen duizelingwekkende snelheid doorheen de filmdecors. Twee jaren zijn verstreken sinds je de Spider-Man bent geworden en eindelijk sta je oog in oog met de gevaarlijkste vijand ooit: Doc Ock. Nu rekent de ganse stad op jouw interventie om haar te redden...

Met de stemmen van:
- Tobey Maguire (Spider-Man, Seabiscuit, Cats & Dogs, Ride with the devil,...)
- Kirsten Dunst ( Spider-Man, Mona Lisa Smile, Drop Dead Gorgeous, The Virgin Suicides, Small Soldiers, ER, Interview with the Vampire,....)
- Alfred Molina (Indiana Jones & The Raiders of the Lost Ark, Ladyhawke, Manifesto, Maverick, Species, Boogie nights, Spider-Man 2,...)


Misschien vind je deze producten ook interessant?
Productspecificaties
| | |
| --- | --- |
| Spelmodi | Singleplayer |
| PEGI leeftijd | 12 |
| Uitgever | Activision |
| Releasedatum | 08.07.2004 |
| EAN | 5030917023125 |
Koop nu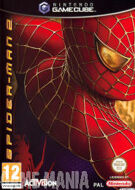 Spider-Man 2
Beschikbaar in winkels. Bekijk winkels met voorraad.
Momenteel niet beschikbaar
x
**NOT FOUND** key: product.askQuestion