Ontvang

Hisuian Growlithe en 20 veerballen in Pokémon Legends Arceus
Let op: je kan vanaf nu géén code meer aanvragen voor Hisuian Growlithe. De actie is afgelopen.
Mis deze kans niet: vanaf nu tot en met 4 april kun je bij Game Mania Hisuian Growlithe en 20 veerballen ontvangen in Pokémon Legends Arceus! Vraag online je code aan of haal een code op in één van de Game Mania winkels.
Als je geen Game Mania winkel in de buurt hebt, kun je een code online opvragen via het formulier dat onderaan jouw scherm verschijnt. Je ontvangt binnen een week je code per e-mail. Deze code kun je dan invullen in de game om zo Hisuian Growlithe en 20 veerballen te ontvangen in Pokémon Legends Arceus!
Belangrijke informatie

voor het ontvangen van de code
Je kunt een code online aanvragen via het formulier of je kan deze afhalen in een van onze winkels
Als je een code in de winkel wilt afhalen, hoef je het formulier niet in te vullen.
De online codes worden elke week op vrijdag rond 17:00 uur uitgestuurd.
Na 4 april is het niet meer mogelijk om een code aan te vragen of op te halen.
Er is een beperkt aantal codes beschikbaar, OP=OP
Iedereen, ongeacht welk level in het spel, kan de code gebruiken.
De code moet uiterlijk 1 juni 2022 worden ingewisseld.
Maximaal één set codes per persoon.
Codes zijn niet bedoeld voor wederverkoop.
De code kan online alleen aangevraagd worden door inwoners van Nederland of België.
Schakel je adblocker uit indien je het formulier niet ziet.
Vergeet niet je ongewenste e-mails of reclamefolder na te kijken
Het formulier om de code aan te vragen verschijnt in een pop-up dat onderaan je scherm in beeld staat: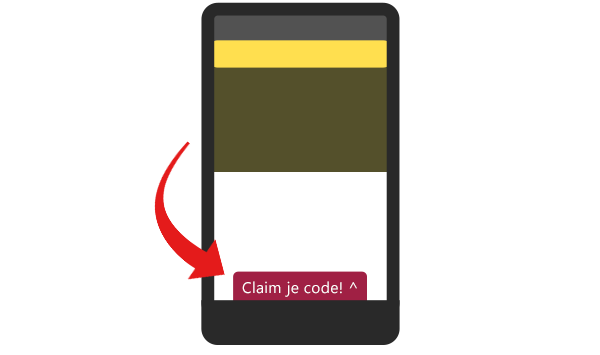 Indien je deze balk niet ziet, probeer dan eventuele adblockers uit te schakelen, een andere browser te gebruiken, of deze pagina te bezoeken op een ander apparaat. Lukt het nog steeds niet, neem dan contact op met onze klantenservice.
Zo ontvang je

Hisuian Growlithe en 20 veerballen

in Pokémon Legends Arceus:
Start je Pokémon Legends Arceus spel
Druk op de Omhoog-knop om het menu te openen, blader met de ZL- of ZR-knop totdat je het communicatiescherm bereikt en selecteer vervolgens Mystery Gifts
Selecteer Ophalen met een code/wachtwoord om verbinding te maken met het internet
Voor je code in
Kijk hoe het geschenk in je spel arriveert
Zorg ervoor dat je je spel opslaat
---